Magic Slim Tribute / 03/28/2013
Mayne Stage / Chicago
This All-Star blues tribute includes performances by Shawn Holt and the Teardrops, John Primer, Billy Boy Arnold, Otis Clay, Eddy Clearwater, Jimmy Burns, Billy Branch, Ronnie Baker Brooks, Wayne Baker Brooks, Dave Specter, Eddie Shaw, Nick Moss, Grana Louise, Big Time Sarah, Zac Harmon, Carl Weathersby, Linsey Alexander, Mike Wheeler, J.W. Williams, Steve Cushing, Zora Young, Lurrie Bell, Jimmy Johnson, Dave Katzman, Nalle (Denmark), Billy Flynn, Matthew Skoller, Marty Sammon, Tom Marker, Steve Sanders.

I did try to get a photo of every participant, but with so many performers who took part in this event, please excuse me if I did not include you in the list above.
Magic Slim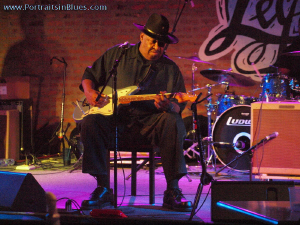 Morris Holt (August 7, 1937 Ė February 21, 2013)
If you could not make it to the event but would like to make a donation to the family, you may send a check (domestic only), money order or postal money order (international donations) made out to Magic Slimís wife Ann Holt, and mailed to her c/o, Marty Salzman, Salzman & Associates, 22 W. Washington St., Suite 1500, Chicago, IL 60602. A PayPal account is available to use at www.magicslimblues.com (click on Donations for Ann Holt). You may make a secure donation through PayPal or use a credit card. Thank you!